Surviving Thanksgiving – Mental Health Tips & Tricks For The Big Gathering
Thanksgiving Day, by far one of my favorite days of the year. So many amazing memories of my childhood run through my mind that surround my late grandmother's home and her pineapple raisin sauce, and there's this positive energy that I can't ignore. I love the food's AMAZING aroma hanging heavy in the air. My large family gathering in tight quarters where it's nearly impossible to walk from one area to the next without squeezing between or walking over people. The enthusiastic conversations with loved ones who you haven't seen in months or even years. Endless laughter with a side of bickering. Children playing and causing mayhem. The continual flow of mulled wine, hot toddy's, and brandy punch to keep your spirits high. Sitting down to a plate that's more of a challenge than an actual meal, but one I'll gladly accept. Don't even get me started on the sandwiches you can make with all the leftovers the day after; there's just so much to be grateful for as cliche as that is.
There's so much to enjoy, so much love to give and to accept, that I find myself sitting here right now counting down the hours until tomorrow because I am just that excited.
The reality of this mindset is, however, is that there have been times when I didn't feel this way but the exact opposite. There have been Thanksgivings in my past where I dreaded every second of it; times when my mental health was suffering and the day felt more like a burden than a blessing. Times when I didn't want to hear what some family members had to say. Times, where I was so physically and mentally exhausted the thought of painting a smile on my face and attending took everything out of me.
I recognize that for some this is isn't always a good day. We worry about family tensions. We worry about seeing people we don't want to see. We worry about overindulging on food and spirit and regretting it the next day. We worry about preparing everything for the day: cooking, cleaning, decorating, timing everything perfectly and making sure everything's there.  I know many people are experiencing this right now and may again tomorrow which is why I want to share some healthy tips and tricks for tomorrow's big gathering!
Have a wonderful holiday, everyone! Please drive safe and enjoy your vices responsibly this weekend.
"Thanksgiving Mindset Survival List"
Overwhelmed with preparations? Remember that you are capable of delegating tasks and you don't "have to
" do anything when it comes down to it. Try to utilize the people in your home if you need a breather or feel like things are getting away from you. Heck, ask people for help even if you're doing well. Trust me; there are always a few people looking for ways to help on Thanksgiving because it helps them feel useful, and it eases their anxieties too which is excellent!
Psych yourself "down" beforehand if you're anxious. Before your guests arrive, or before you walk into your family member or friends home, take five to ten minutes and relax and center yourself. You have breathing exercises, positive affirmations or mantras that you can repeat until you're recentered, quick guided meditations, EFT tapping. The list goes on! Utilize one or multiple of the countless ways that we have to relax and find our calm, do what works for you. If you need to during the day, step outside, talk to someone there who gets you, seek a quiet area, zone out, be mindful and remind yourself why you're there. 
Have a somewhat dysfunctional family? I came across this article by Psyche Central that I thought was informative. There are quite a few helpful tips on how to stay proactive when facing less than desirable family member's actions and situations.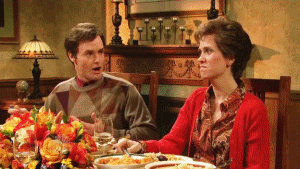 Individual family members make you emotional? It's important to recognize our behaviors too when you have endless different personalities in one confined area. If someone makes comments that drive you crazy, and you can't have a healthy mutual discussion, maybe the best thing to do is walk away. Even when you are having a mature conversation, using "I" statements, and the other person can't see where you're coming from, walk away. Sometimes the best thing to do is to let it go.  Remember: Don't take anything personally. Don't try to fix or critique other people's lives. Remind yourself that life is full of lessons. If you feel that a conversation is heading down a path that may end badly or upset you, excuse yourself politely and immediately occupy yourself with something more positive and in the moment. 
Let your guard down and be in the moment

. This day is the only time of the year that you around some of the people you'll see this holiday. Regardless of how you feel about them or how you think they feel or think about you, the truth is more than likely that you all love and care for each other very much -differences and all. Be genuine, come from a place of love. Make memories and enjoy every moment for what it is, not what you think it is or how you wish it could be. 
Worried about overeating or feeling guilty that you want to?

Don't let one meal dictate how you think or how you look at yourself. If you don't want to eat a lot, you can start with just a small portion of three or four of your "must-have" foods. Don't immediately fill your plate with a small spoonful of everything because the chances are; you'll still end up with a ton of food regardless if portions are small. If you finish your plate, feel good, but still, you want more, do the same again but this time get even less. Trust yourself. Make sure that you savor each and every bite!!! If you're going to over-indulge but worry that you're going to feel guilty, take a page from my book and let that guilt go. It's one meal, I won't allow one single day of stuffing my face dictate how I feel about myself as a whole. Of course, if you have food allergies, you shouldn't go about eating whatever dairy or gluten-filled food that will cause you some severe pain later, even if it is beyond tempting haha! The overall fact is: food is delicious, and we need it to nourish our bodies, so do just that and ditch any negative attachments or preconceived notions about food.

Remind yourself of what's most important. Thanksgiving is an exciting day. It puts us in a room with family and friends so that we can enjoy delicious food and rare company. It reminds us to put our differences aside and focus on some of the essential joys in this life which is love, acceptance, helping others, and gathering together. This day allows us to make amazing memories for our children and ourselves and that is something we need to take advantage of because it doesn't happen often enough.
Leave when you're ready to leave. If you're overwhelmed and want to go, don't feel like you have to keep yourself in a situation that you don't want to be in to be kind to others. If the day isn't going how you hoped, it's too much, or things are reaching an unhealthy climax, you have every right and obligation to remove yourself from the situation. If you just want to go home because you're ridiculously full and exhausted after a long day of socializing, that's alright too. Thank whoever is hosting this year for welcoming you into their home, ask if there's anything you can do to help before taking off, say your goodbyes, give your love, and start the exciting countdown all over again.