It's Time To Buckle Down and 'Boss' Up, Mommas
Imagine waking up first thing in the morning, before everyone else and having this incredible sense of power behind you.
You're sitting comfortably in your favorite spot, the house is silent, your cup of coffee to the right, your planner open. A few weekly chores here and there. Today it's patching the hole in the playroom drywall from when the kids were roughhousing and wiping down the blinds. The normal every day must-dos too like vacuuming, washing dishes, and doing laundry. A few hours set aside to catch up on a few work projects. Soccer practice for Jason. Meeting the hubs at school for Sarah's ballet recital. A quick grocery store trip to pick up the last few items you need to make that new, bomb-looking dinner you found on Pinterest. Finally your mandatory 'me time' to end your day while the kids tackle their daily chores and schoolwork before bed. Your 'us time' with your husband isn't notated, but it's there in your mind.
Instead of panicking and going over your day wondering how the hell you're going to manage this you don't even think twice about it. You move forward with coffee in one hand and confidence in the other. So you enjoy the silence, maybe do a little meditation and yoga before the rest of the house starts moving then shower and get ready to handle the day like a boss.
You don't mind that there's a slight chance that you work your ass off and then not receive recognition for it. Hell, you don't even mind if no one offers help because this is who you want to be. You WANT to be that mother who can face daily obstacles that come in your way; annoying road bumps like the ones they put down the street and nothing else. *Pssst* Truth be told, however, if you work your ass off without asking your family is going to notice and they will begin to go out of their way to make things easier on you.  But the thing is, you don't need the 'job well done' stickers because you're the boss. You're the one handing out the stickers and picking up the pieces when it all falls apart because let's face it; you run this shit.
Your recognition from this point on is smiling faces, 'I love you's, and long hugs at the end of the day and you're over the moon about it. Nothing else could make you happier than the satisfaction of knowing that you're giving life all that you have. You love your family with your entire self while at the same time working on you and focusing on your dreams.
We're women; we are powerful beings. Life literally can't move forward without our say so and yet so many times we're huddled on the bathroom floor feeling like failures. Feeling like we can't do this and what we do accomplish is awful, and why?
Even when we're falling behind and falling apart, we're working our asses off! The only difference is what's going on the inside. We're feeling hopeless and angry, or we're feeling optimistic and grateful.
We do reach points where we are looking for others to pick us back up and brush us off, but that isn't always going to happen. We cherish the moments it does, but we don't resent those we love when it doesn't. That's because we look within ourselves and activate that dormant God-given energy we've had since birth, pick our heads up, and get back to it.
So many times it's us who has to be the one who gives that uplifting pep talk, wipes our brow, and gets shit done again because we know if we don't do it, we're going to have to redo it anyways. Am I right? Haha
Only kidding, unless it comes to loading the dishwasher.
If you're ready…and I know you are.
It's time to 'level up' in this life and become the woman who looks at challenges head-on, with a smirk, knowing it doesn't stand a chance. The one who is addicted to that feeling of having their shit together. Because you know deep down inside you're the one who holds all the power and that's empowering in itself.
I don't know how many times in the past I have made excuses, self-sabotaged, or gave up all that I had worked on because it got more difficult than I had hoped. I would be angry because I felt like my husband wasn't bending over backward to help me when I was the one who wanted to make it happen. Instead of doing the dishes myself I would spend hours of my energy being pissed off about it instead of just doing it. A huge part of me deep down inside wanted to, and I mean reeeaaally wanted to change my life and stop looking at others to blame for my upsets. I tried to react differently, function differently, and manage this mom life's to-do list with grace.
Why did I fail over and over again? I didn't take myself seriously.
You want to know how other mothers become successful and grab life by the ovaries; they get serious about how important they are. How powerful they are. They become their own hero. They become 'THE BOSS' even if it's just the boss, of changing diapers and wiping snotty noses while trying to stay sane on no sleep. They do it and own it because they know that no one else can do it as well as they do. Whatever it is that you want to get done every day, you can do it.
It's time to 'boss up' and know that even on your worst days, you're killing it.
Coffee in one hand, confidence in the other.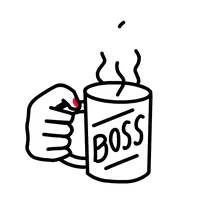 #MommaSlay